For over 40 years, A. DeLuca Paving has provided top-quality workmanship for all types of New Jersey paving services. We have the skills, equipment and knowledge to take on a variety of projects—from large-scale construction to smaller, residential requests. Our family-owned operation means that we can handle many aspects of your project while saving you time and money, since there's no need to coordinate with outside subcontractors. We put our name behind everything we do—whether it's public works construction, large commercial paving, small business projects or residential upgrades. Look to A. DeLuca Paving for these comprehensive service offerings.
Paving and Site Work in Springfield, NJ 07081
At A. DeLuca Paving, we've provided asphalt and concrete construction services to greater New Jersey for over 40 years. We're industry experts, and our experience includes asphalt paving and resurfacing projects for new and existing commercial parking lots, roads, driveways, large office parks and industrial terminals. Construction offerings include: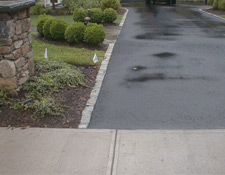 New site clearing and development in Springfield, NJ 07081
Water, sewer and underground utility installations in Springfield, NJ 07081
Belgian block and concrete curbing layout and installation in Springfield, NJ 07081
Earth work, moving and excavating in Springfield, NJ 07081
Asphalt paving and concrete installation in Springfield, NJ 07081
Surfacing of heavy traffic zones and loading surfaces in Springfield, NJ 07081
If your business or community depends on reliable paving surfaces, A. DeLuca Paving guarantees durability and quality that's backed by the workmanship of our knowledgeable, certified paving technicians and project specialists. Our personally owned fleet of trucks, pavers, milling machines and rollers adheres to the highest safety and quality standards, and ensures that your project is completed on time—and on budget.
Asphalt Milling in Springfield, NJ 07081
Asphalt milling machines make the process look easy, but in truth it takes considerable expertise and training to handle asphalt milling correctly. Proper "milling" utilizes specialized machinery that scrapes off old asphalt, grinds it up—and removes it from the road. Milling is done to ensure that (1) drainage problems are addressed, (2) grade problems are solved, and (3) the newly applied asphalt will have a smooth, even surface to adhere to. The removed material must also be properly transported to an approved recycling facility to adhere to New Jersey environmental laws. Milling must also be done in conjunction with the repaving project to enable an even, uniform surface.
That's where the DeLuca team comes in. Our family-owned and operated business has delivered high-performance asphalt construction since 1969, and is available for small community repairs or large-scale milling of high-traffic areas.
Brick Pavers in Springfield, NJ 07081
Pavers and walls serve more than just a decorative function. They lend personality to your company or home: welcoming guests and clients while enhancing your facility's functionality and curb appeal. When it comes to a paver or wall construction project, trust the experts at A. DeLuca Paving. We'll construct your pavers or wall to your specifications, using the highest quality materials and our personal construction vehicles. Our portfolio includes: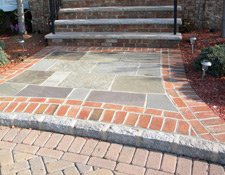 Retaining wall systems of all sizes in Springfield, NJ 07081
Walkways and driveways in Springfield, NJ 07081
Natural stone designs and hardscape installation in Springfield, NJ 07081
Large-scale paver construction projects in Springfield, NJ 07081
Sidewalks in Springfield, NJ 07081
Do-it-yourself manuals make sidewalk construction seem easy, but prudent customers leave the job to professionals. The experts at A. DeLuca Paving understand the specifics of constructing sidewalks in New Jersey, from taking proper geological measurements to excavating the area and selecting the proper concrete mix design. Equipped with our own fleet of commercial trucks and paving equipment, DeLuca ensures that your sidewalk, driveway and curbs withstand the abuse of freeze cycles and constant foot and vehicle traffic. From standard concrete construction to color and pattern options, the DeLuca Difference means quality, integrity and commitment for every commercial or industrial project.
Paving and Asphalt Maintenance in Springfield, NJ 07081
Maintaining a paving project – whether it's a parking lot, a sidewalk, a driveway or a road – begins with a solid foundation. You need a top-notch firm to do the job right the first time, check for potential problems and ensure that the resulting pavement can withstand the tests of time, weather and traffic. Maintenance on such projects is often more preventative than catastrophic, and when problems do arise, a good paving firm can (1) pinpoint issues readily, and (2) fix them efficiently and affordably. A DeLuca's paving and asphalt maintenance expertise includes: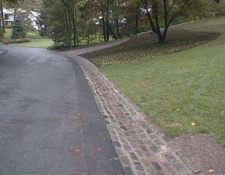 Infrared asphalt repairs of potholes, drainage issues and reclamation/removal in Springfield, NJ 07081
Asphalt and concrete repairs due to age, water infiltration or neglect in Springfield, NJ 07081
Failed sub-base repairs and restoration of parking lots, streets, driveways and cul-de-sacs in Springfield, NJ 07081
Water and sewer main repairs in Springfield, NJ 07081
Crack routing and cleaning in Springfield, NJ 07081
Hot pour crack filling in Springfield, NJ 07081
Catch basin repairs in Springfield, NJ 07081
Our company's unflagging commitment to quality and integrity means we focus on the future of a paving project, and not just its present. We want your business to see results immediately, but we build to last—saving you money in the long-term. When you require pavement maintenance in New Jersey, the DeLuca team can be there in a flash, equipped with the machinery and expertise that makes us the best in the business.
Sealcoating in Springfield, NJ 07081
Sealcoating refers to placing sealants over asphalt pavement to better protect it from weather, vehicle oils and fuel spills. In addition, high-quality sealcoating prevents frequent maintenance and reduces repair costs. Sealcoating is waterproof, flexible and binds well to pavement aggregates, making it ideal for high-traffic surfaces. Using high-end materials, the DeLuca team can apply multiple layers to encourage longevity and prevent problems with your asphalt surface. Our personally owned fleet of equipment can travel wherever you require, and a DeLuca sealcoating expert personally oversees every project we undertake.
Equipment Rental in Springfield, NJ 07081
A. DeLuca Paving specializes in top quality paving and driveway services for your home or business, putting our family name behind our work. In addition to asphalt, concrete and stonework services, we offer affordable low-boy hauling services and manned daily/weekly rentals of our trucks, pavers, bulldozers, asphalt millers and construction equipment. Our certified staff ensures that equipment remains in peak condition, while keeping an eye on industry advances and technology upgrades. As a convenience, we'll transport equipment anywhere in New Jersey to assist with your commercial, industrial or residential project. Call today to inquire about pricing, equipment specifics and rental schedules.
Commercial & Industrial Paving in Springfield, NJ 07081
Since 1969, A. DeLuca Paving has set the standard for paving projects in New Jersey. We began with our roots in the residential market and have gradually grown to include meeting the high demands of the Commercial and Industrial Paving market.
Our commercial construction services specialize in asphalt paving, excavation, asphalt milling, grading, utilities installation, concrete flat work, and drainage construction.
Our vast experience stemming from three generations of our family-centered industry and commitment to excellence provides you with the highest degree of success for your project.
Focusing our operations on Commercial and Industrial properties, our qualified teams deliver exacting project requirements on time and on budget. Our company has a full line of modern equipment to complete your project in house with minimal down-time waiting for subcontractors..